Company History
April 11, 1933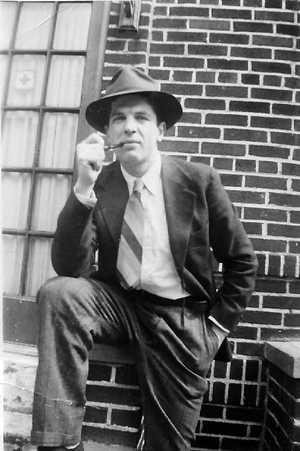 At the height of the depression in the 1930s, Sam Golden joined his uncle Leonard Bocour as a partner in Bocour Artist Colors. Leonard and Sam produced hand-ground oil colors for artists. The shop on 15th Street in Manhattan became a hangout for artists from the 1930s through the early 1950s. Artists such as Barnett Newman, Mark Rothko, Willem de Kooning, Jackson Pollock, Helen Frankenthaler and Jack Levine would go to the shop to visit with Leonard, talk to Sam and get paint.

January 01, 1950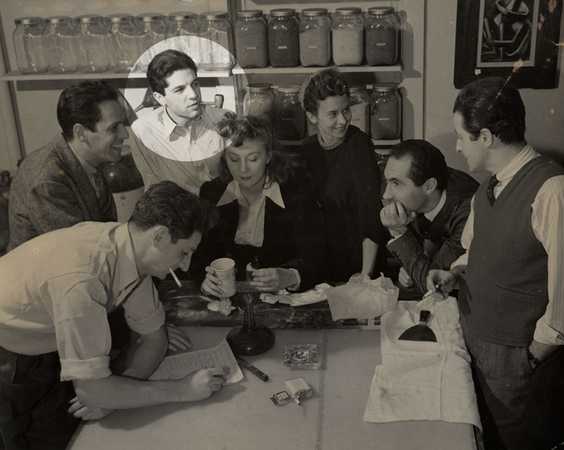 During one visit an artist gave Sam a honey-like resin and asked if it could be made into paint. Sam recognized that this idea would require experimentation as the early batches of the new paint seemed to dry before the paint was applied. Between 1946 and 1949, and after much trial and error, the first artist acrylic paint was ready for production. One of the earliest artists to use the paint "Magna", was Morris Louis. Sam eventually developed a more popular waterborne version of the acrylic, "Aquatec." He continued to refine the chemistry of acrylic paints, working with artists for the next 20 years to find what worked and what did not.
June 01, 1980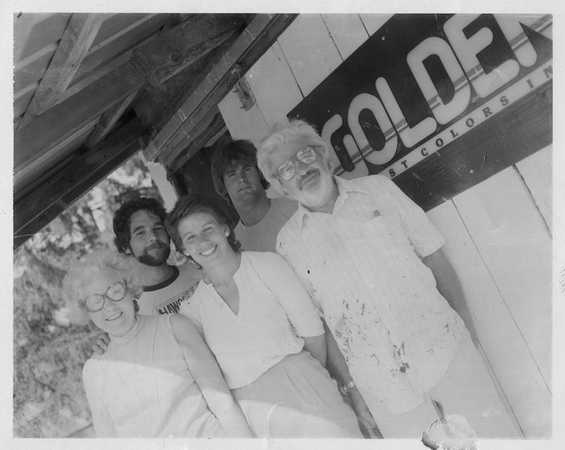 After 30 years in the paint making business, Sam retired and moved to picturesque New Berlin, New York. Sam planned to fish and golf, but quickly grew bored with retirement and found himself "going to the barn to make paint for friends." At the age of 67 Sam decided to come out of retirement.
Golden Artist Colors, Inc. began in June of 1980 in a 900 square foot, renovated barn. Sam, his wife Adele, son Mark and daughter-in-law Barbara Golden, along with partner Chuck Kelly, founded a new company that would embody Sam's dedication to professional artists, work Sam described as simply "making tools for artists."
The first four years were financially challenging. Sam and Adele used every resource they had to keep the business alive. Mark took weekly trips to New York City to sell products to artists and continue the conversation that had made Bocour so successful.
The business began to succeed with very loyal support the product was gaining from professional artists. 
January 01, 1985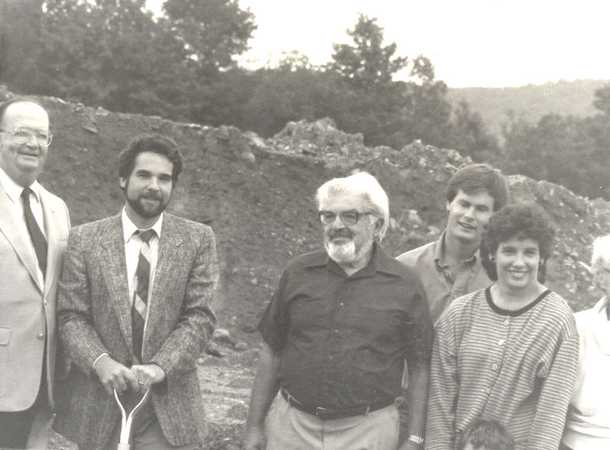 In 1985, the addition of a factory to the original cow barn gave the company 6,200 square feet of space. As the building grew, so did the product lines. The original Heavy Body and Iridescent Acrylics grew to include Fluid, Matte and Interference Acrylics.
June 01, 1990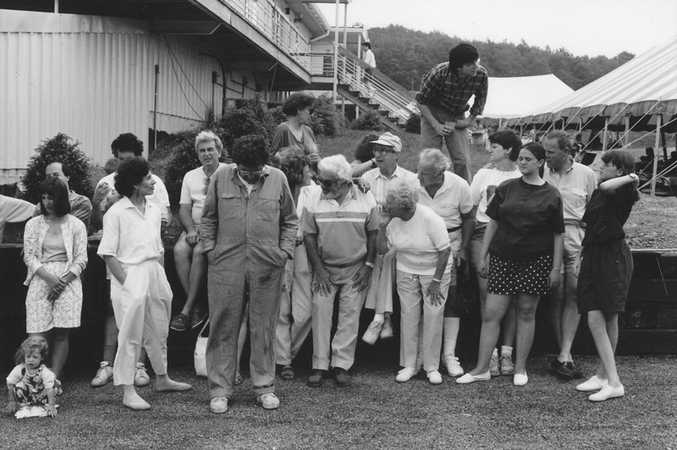 As the GOLDEN brand gained respect in the artist community, more and more retail stores began to sell GOLDEN product. To meet the growing demand, another addition to the corporate headquarters was completed in 1990. The 13,000 square foot expansion added office, production and inventory space as well as a gallery. In July 1990, Golden Artist Colors celebrated its tenth anniversary and Sam Golden's 50th anniversary of paint making.
The company received many local and national awards including the 1991 Business Arts Award by the Chenango County Chamber of Commerce and the Council of the Arts. Mark Golden received the 1996 Small Business Person of the Year from the US Small Business Administration and Golden Artist Colors was featured on the NBC Nightly News as a successful small business. In 1998 Mark Golden was selected by Fortune Magazine to appear in a video series on small business.
March 01, 1997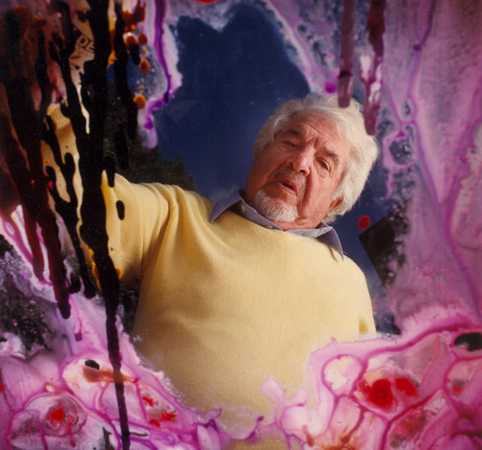 GOLDEN added 31,000 square feet to the facility in 1997 and took down the "old barn". But the surge in growth, sales and employees that year was eclipsed by sadness when Sam Golden died at age 82, on March 11, 1997. Sam left behind a legacy of participation in the creative process of artists and their materials.
June 01, 2002

Golden Artist Colors, Inc. became an employee owned company in 2002 and in 2010, employees became the majority owners of the company. Despite worldwide distribution, GOLDEN product is still created on the grounds of the original barn in New Berlin using the highest standards for consistency and quality.
May 01, 2008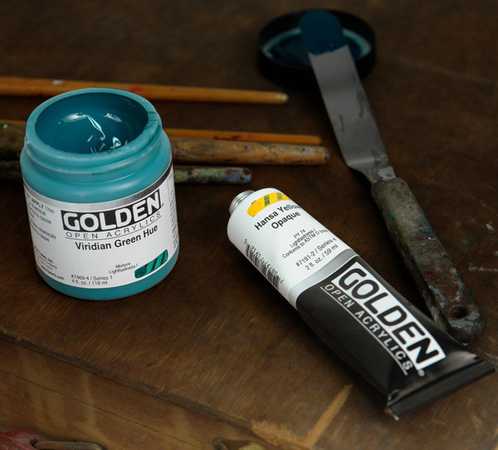 In 2008 Golden Artist Colors launched OPEN Acrylics, a new line of colors and mediums with exceptionally slow-drying characteristics to allow artists to blend and rework acrylic paint in ways previously only possible with oils. OPEN introduces a completely new opportunity for artists and represents the kind of product innovation and commitment to artists that Sam imparted on the company that bears his name.
May 21, 2010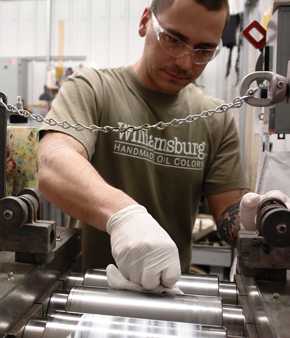 Golden Artist Colors assumes responsibility for realizing Carl Plansky's dream for truly unique oil paints and mediums that reflect not only the traditions of painting in Europe and North America, but the artist's passion that drives them forward. Carl himself claimed that only Golden Artist Colors could make oil paints with the integrity and style he envisioned and today Williamsburg Artist Oil Colors offers the largest palette of oil colors available.
May 01, 2012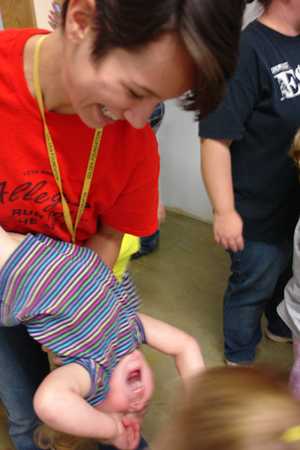 Today GOLDEN maintains a culture of individual excellence and community involvement. GOLDEN has sponsored "Paint Day," to provide the people who make paint the experience of painting, and "Kids Day" when kids come and see where their parents work and get to use the product. The "Seconds Program" offers paint that does not meet GOLDEN standards and offers it at little or no cost to employees, local artists and nonprofit organizations.
GOLDEN constantly strives to outdo itself by operating on three principles: 1) Make the best products, 2) Provide customers with the best service, and 3) Find people who can make the first two happen. These principles are the essence of Sam Golden's commitment to artists and their tools, and how we hope to grow a sustainable company dedicated to creating and sharing the most imaginative and innovative tools of color, line and texture for inspiring those who turn their vision into reality. 
April 30, 2014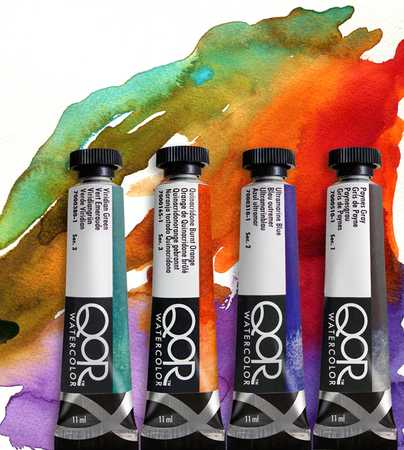 Golden Artist Colors introduces QoR, a new line of watercolors that offers artists color strength, range and versatility unmatched in the history of watercolors. QoR's exclusive binder gives color greater intensity and clarity, while retaining the best qualities of traditional watercolors.
June 23, 2014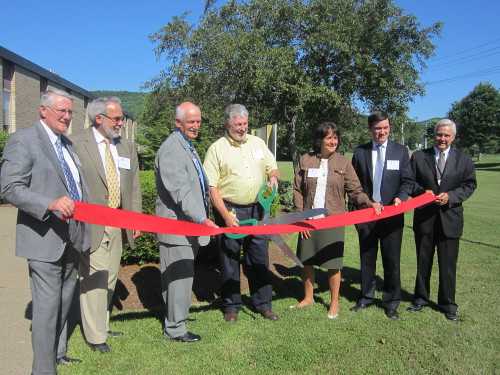 GOLDEN acquired the former Apple Converting manufacturing building located at 65 Hale Street in Norwich, NY.  The 45,000 square foot commercial space significantly increased the company's warehousing and distribution capacity. Having this additional space also freed up manufacturing floor space within the company's current facility in Columbus, NY. 
October 01, 2021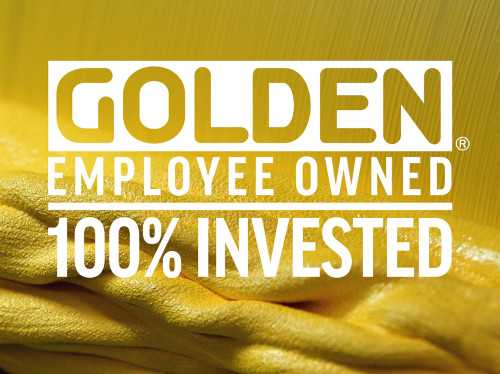 The culmination of a plan put in place in 2002, when the company implemented an Employee Stock Ownership Plan (ESOP) for staff. In May 2010, GOLDEN staff became one of only 4,000 other companies across the entire United States to be majority owned by its employees. According to Mark Golden, "Implementing 100% ownership for staff is unique and something our family has dreamt about since the company's beginning,  on the premise that 'what you care about will grow.' Golden Artist Colors has grown far beyond any dreams we had starting out in my parent's kitchen. Through four decades we've grown in the most wonderful ways through the care and dedication of employees who have taken this journey with us and made this place part of themselves." 
November 02, 2022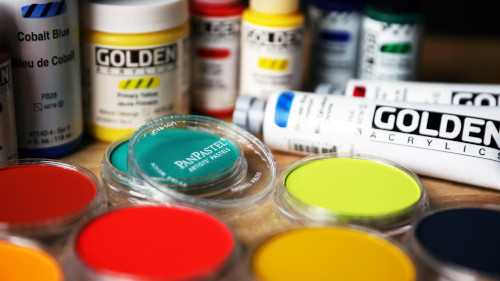 Golden Artist Colors adds PanPastel® and Sofft Tools® to its comprehensive fine art material offering for professional artists. "[Colorfin Co-Founder] Ladd's incredible capacity to think between the spaces of our industry, his engineering mastery along with [Colorfin Co-Founder] Berni's expertise and marketing ingenuity, quickly built brands that are recognized and sought after worldwide."
GOLDEN will earn and sustain the trust of PanPastel supporters by keeping the tradition of this unique soft pastel color product – retaining the characteristics that make the pastel medium special: its directness and purity of color - but in a patented pan format that makes it function like paint.          
GOLDEN President & COO, Barbara Schindler shared, "This acquisition has been a partnership between the two companies, focused on one goal: watching the PanPastel and Sofft Tools brands flourish and grow."